Course details
Everyone ♪ ♪ 【Jajanda Yaki course】 2.5h with all you can drink 4500 ⇒ 4000 yen ※ Fri, Sat, and celebration 2 hours drunk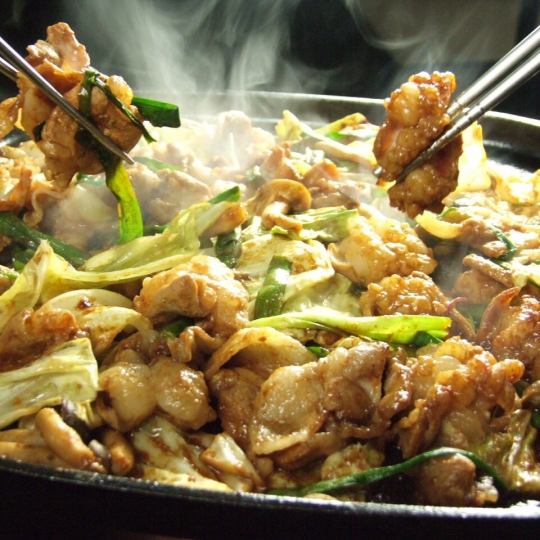 By using a coupon4000 yen
※ LO 30 minutes ago
All-you-can-drink available

All you can drink as you can drink in plenty of drinks, plenty! One glasses per person, thank you glass replacement.Excessive drinking leave, thank you 300 yen / name like.
Reservation deadline

Visit of hope the day before until 23:00
Available days for reservation

Monday - Sunday - Public holidays - Holidays
【Jajangyaki】 is?! Meat and vegetables with steel plate, bake cooking while making sound of the sound !! The course of confidence that adheres to domestic food ingredients to various banquets! ※ Courses are not creditable.
Course menu
■ Three kinds of today's banana
■ seasonal sashimi
■ day instead salad
■ Atsatsu Kyo Wind Dashi roll
■ Today's excellent dishes
■ Round jam (Please choose taste from the following two kinds)
· Sweet and sour miso flavor
· Special salt dull eat
■ deadline kishimen of
■ dessert
Course one example - of one day
■ edamame
■ Specialty! Boiled beef with salt stew
■ Simmered fruit and dried radish
■ Daikon and Mizuna fried onion salad
■ piping hot Kyoto-style soup wound
■ Deep-fried lotus root scissors
■ Rice jelly
■ deadline kishimen of
■ Petit cake
※ by the convenience of the purchase there is the case of course content change.
★ on birthdays and anniversaries ★
Original 15cm hole cake for 3000 yen (tax excluded) ~ It is possible to book !!
Assorted dessert platter with message 1280 yen (tax excluded) can also be prepared.
※ Separately from 2,500 yen (excluding tax) or more, we will arrange bouquets !!!
We'd like to make an appointment for the day before.
※ Please feel free to inquire about cooking contents and budget ♪
All-you-can-drink menu
·draft beer
- Kirin Ichiban Shibori
- Zhuhai
· Lemon · lime · orange · grapefruit · lychee · white peach · oolong · shikuasa · calpis · red wine · white wine
Shochu
· Potato · wheat rock · water split · hot water split · soda split
·plum wine
Rock whiskey and water, soda
·Cocktail
· Cassis Orange · Cassis grapefruit · Cassis oolong · Cassis soda · Cassis milk · Zim bag · Gin Rickey · Moscow Mulberry · Screwdriver · Bulldog · Shandyfa · Red eye · Fuzzy group · Peach grapefruit · Peach oolong · Dita orange · Dita grapefruit
·Soft drink
Orange juice, ginger ale, grapefruit juice, oolong tea-Cola Calpis
·Whisky
· Rock · Water · High Ball · Ginger High · Cork High
·Sake
- Cold sake, hot sake
- A glass of wine
· Red · White · Keel
2018/10/15 update